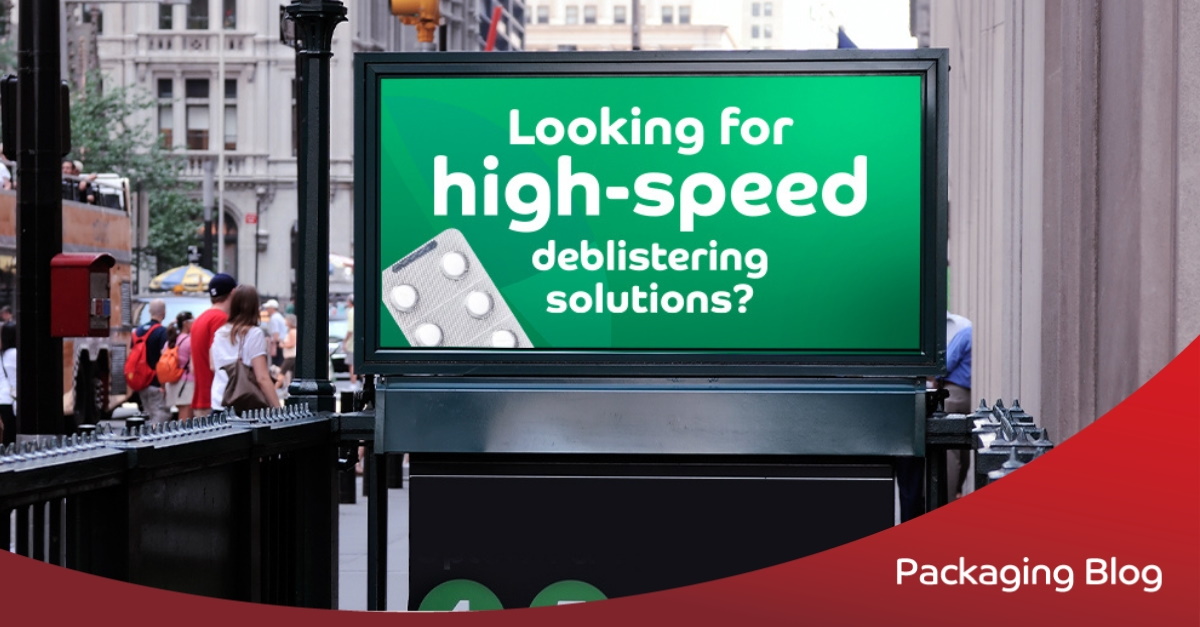 A comprehensive guide to deblistering tablets and capsules
Deblistering is a process that removes tablets and capsules from sealed blister packs and separates them from the waste packaging. Removing tablets and capsules from pharmaceutical packaging by hand is a time-consuming, and long term, a potentially hazardous operation. However, with the right machines, you can safely speed the process, increase profits, and reduce waste disposal costs. This article describes some of the causes of reject blister packs and provides details on how deblistering equipment can improve your blister packing operations.
Causes of reject blister packs
As the primary packaging barrier for tablets and capsules, blister packaging plays a key role as it needs to protect its valuable content from moisture migration, oxidation, damage during transit and tampering. Most blister packs are produced on high-speed form, fill and seal machines supplied by companies including Uhlmann, Romaco, Körber, Marchesini and IMA, reaching speeds up to 800 packs per minute.
Should something go wrong during production on a high-speed line, the blister packing machine may generate large quantities of faulty blisters which need to be rejected. When this happens, the blister line does not necessarily have to stop, as many lines can segregate the rejected blister packs from the good packs. However, line stoppages can occur when for example, any of the material is fed incorrectly, the product is damaged, the perforations are poor, the wrong batch code is applied, or the foil seal is shown to be faulty.
Sometimes, the line will run without the operators realising that a problem exists, e.g., if the wrong foil or batch code number has been applied. By the time the problem is discovered, huge quantities of blisters may have been produced.
Where to install deblistering equipment?
Pharmaceutical manufacturing departments

Deblistering equipment is often placed at the end of a blister packaging line as it enables manufacturers to recover tablets and capsules from reject blister packs during production. Advanced systems enable separation of tablets and capsules from the waste packaging without damaging the products and without contaminating them with pieces of foil. This enables manufactures to return the products

back to the tablet feeder more easily compared to machines which may produce foil contamination.
Quality assurance areas


How quickly errors are detected in blister packs depends on how automated inspection systems are. If the blister packing line includes integrated visual inspection, errors can be spotted and corrected very early, keeping rejects to a minimum.

Today's sophisticated inspection systems can identify empty pockets and printing errors, such as incorrect batch codes or poor print registration. These systems are often linked to a reject station on the blister line, diverting and collecting any blister packs identified as less than perfect.

When there is no automatic inspection system, standard practice is to take samples from the line at regular intervals and use ingress testing or a non-destructive leak test system to test the integrity of the packs.

Whilst validation and set-up procedures are in place to prevent mistakes such as entering the wrong batch code or using the wrong foil, no manufacturer can guarantee a 100% yield. In many cases, a blister packing line will reject not just the single defective blister, but the complete row. In line with QA procedures, all rejected packs will be declared as unsaleable. Deblistering can help reduce cost as it enables the recovered product to be repackaged.
Pharmaceutical research and development departments

Deblistering machines can be used in clinical trials when blister packs need to be emptied and tablets or capsules are repacked for use in double-blind clinical trials. Deblistering is also useful when carrying out stability tests because the samples are deblistered mechanically, allowing you to examine the pack function and the behaviour of the product. Mechanical deblistering may provide the opportunity to look for overheated blister packs. For instance, blisters containing capsules, can be especially susceptible to sealing problems when heat from the foil transfers to the gelatine of the capsule. The capsule might then stick to the foil. The same can happen if the capsule contents are too moist.
Types of deblistering machines
The deblistering market can be broken down in three categories: manual machines, semi-automatic machines, and automatic equipment.
Manual deblistering machine

Manual deblistering machines offer a simple and cost-effective way to remove product from small batches of blister packs. Blister packs are manually fed through a set of rollers by turning a handle. Tablets or capsules are simultaneously removed from the blister pack and separated from the waste packaging. These compact, bench-top system require no specific tooling, are quick to set-up and reduce the risk to blisters on fingers, Repetitive Strain Injury or Carpet Tunnel Syndrome that can occur when removing product by hand.

Semi-automatic deblistering machine

Compared to manual machines, semi-automatic deblistering machines generate a higher through-put, as the mechanical system is driven by a motor. Packs still need to be placed in the machine by hand, but the packs are fed through automatically, speeding up the process. Semi-automated machines offer affordable solutions that can handle most blister pack types including thermo-formed and alu-alu packs.

Automatic, high-speed deblistering machine

Automatic deblistering machines have an integrated magazine feed that enables blister packs to be fed automatically. As a much larger amount of blister packs are fed through unassisted, the operator has more freedom to walk away from the machine focusing on other tasks that are required at the line. Automatic machines either work on the roller principle, where the packs are fed through a roller to be pushed out, or use advanced cutting technology. Deblistering machines that use cutting technology can deblister all types of blister packs including peelable and child-resistant packs. They are ideal for manufactures working with fragile or high-value product, as the cutting technology minimises pressure on the tablets and reduces the risk for foil contamination.
The return on your investment
Higher yields

Companies can increase their blister pack production yields and prevent wastage of good product. Deblistering machines also handle rejects that occur during set-up, further increasing yields. For example, if your blister packing line runs at 95 percent efficiency, time could be wasted trying to achieve a higher yield from that line. It could be cost-effective to install an automatic deblistering machine at the end of the line to deblister the 5 percent rejects. By repackaging product that's been deblistered from these rejected packs, overall production yield from the blister line will increase.
Increased profitability

Once the investment in the deblistering machine has been recovered, any additional recovered product will become profitable.
Lower waste disposal costs and reduced environmental impact

Deblistering enables separation of active product from waste packaging before disposal, reducing waste disposal cost. In addition, deblistering can also help to meet legislative requirements and minimise the impact of manufacturing processes on the environment.
Flexible inventory management

In any manufacturing process, changes will be required, whether it's the size of a blister pack or the need for a different language. With a deblistering machine, it's a simple matter of retrieving existing stock, deblistering it, and repackaging it according to the new requirements.
Health and safety

A tablet deblistering machine can be a welcome solution to operators when tablets or capsules need to be removed from blister packs. Removing product by hand is often a tedious and slow process. It can cause injury to hands and fingers and the repetitive process can result in RSI or carpal tunnel syndrome. Furthermore, if the contents of the blister packs are hazardous, operators risk exposure to hazard, especially if the tablets break.

When product is manually removed, it is also key to ensure the product is not damaged or contaminated. To prevent injury, boost staff morale and prevent damage or foil contamination to fragile or valuable product, a tablet deblistering machine could be the perfect solution.
The benefits for contract packagers
No matter how thorough validation procedures are, contract packers must protect themselves against human error. If a line operator makes a mistake, such as entering the wrong batch code or putting the wrong foil on the reel, it could be disastrous. A mistake that's only discovered halfway through a batch, could end up in wasting a substantial amount of blister packs. Often blister packs contain up to 10 tablets or capsules, which would result in large quantities of destroyed product.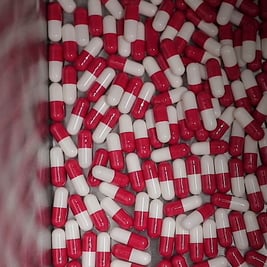 A deblistering machine can help limit damage control and avoid costly situations of clients having to re-supply new product. Recovered product can be re-used immediately, if permitted under the validation procedures. The time spend correcting the problem will be minimised as an immediate recovery situation is on hand. In cases like this, the savings made will outweigh the initial capital investments of deblistering equipment.
Even when blister lines are running smoothly, clients will appreciate recovery of good product and yield being maximized, rather than being charged for disposal or incineration of complete blister packs. Some contract packers offer contract deblistering services to pharmaceutical plants to help them out with their rejects.
Sepha Deblistering Solutions
Founded in 1980, Sepha has established a global reputation for innovation and development of specialised, high-quality equipment for use in the manufacture of pharmaceutical blister packs, parenterals, medical devices and healthcare products.
We have developed a comprehensive range of automatic, semi-automatic and manual deblistering machines that offer speed, efficiency and safety in the recovery of valuable product from all types of rejected blister packs including push-through, child-resistant and peelable blisters. An overview of the different blister pack types that can be deblistered per machine is available on the page 'What types of blister packs can be deblistered?'
Find out more about our PressOut deblistering range and see what system best suit your requirements to minimize your cost in handling rejected blister packs.
About the Author
Paul Smith, Managing Director at Sepha, has 17 years' experience working in pharmaceutical and packaging industries. He has a BSc (Hons) Biomedical Engineering degree from University of Ulster and an MBA from Trinity College Dublin. Sepha has established a global reputation for its extended portfolio of innovative solutions developed to improve procedures to leak test, deblister and package pharmaceutical products, medical devices and healthcare products. The UK based company has been working with pharmaceutical companies worldwide since 1980.