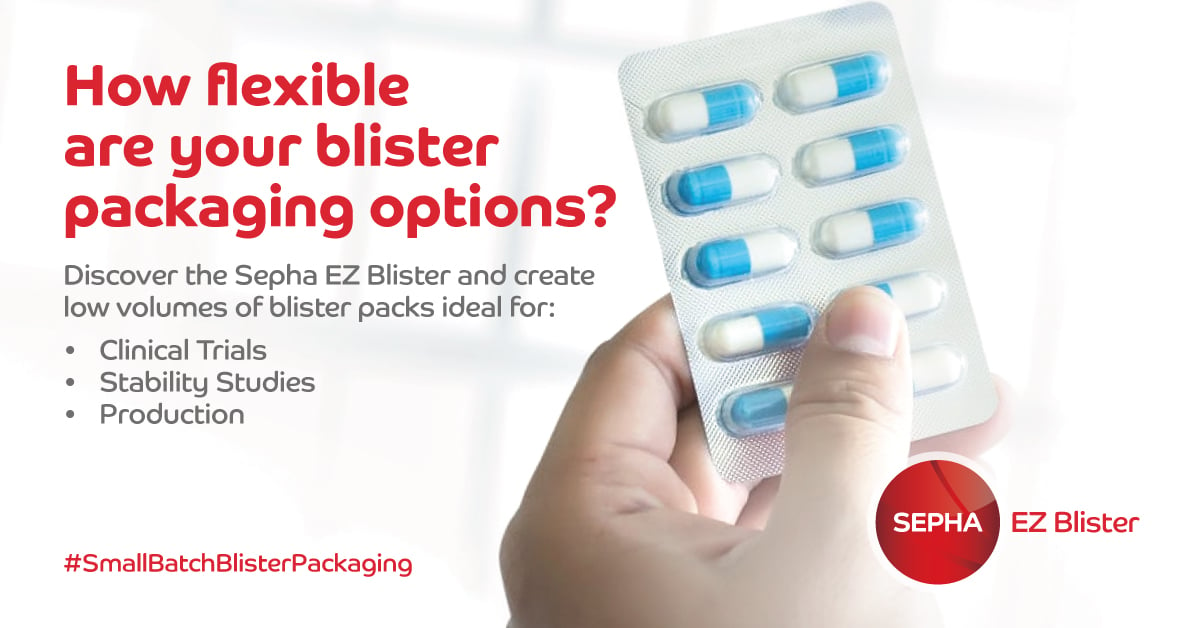 Manual Blister Packing Machine Ideal for Small Batch Production
Why choose a Manual Blister Packing Machine?
An increasing number of pharmaceutical companies are using a manual blister packing machine when developing and bringing to market new drugs. During clinical trials and stability testing, small batches of blister packs are used as part of the process to test if the blister packaging is robust enough to maintain the drugs efficacy.
The Sepha EZ Blister has been specially developed to create small quantities of blister packs for tablets, capsules, ampoules and medical devices. This manual blister packing machine is highly flexible and economical as it offers the possibility to create high quality yet low volumes of blister packs.


Low Volume Blister Packaging made easy
When small batches of blister packs or medical device packs are required for clinical trials, stability studies, package development, specialist drugs or marketing samples, it can be hard to get these small runs fit in to the busy schedule of a Production Department. The Sepha EZ Blister eliminates the need to interrupt production schedules, saving time and money, and enabling departments to create blister packs as and when required.
The EZ Blister has a small footprint and can easily fit in facilities and laboratories limited on space. The machine offers great flexibility for producing blister packs in a large variety of packaging materials using thermoforming and coldforming processes. The quick and easy tool-less changeover function enables an easy switch between different applications.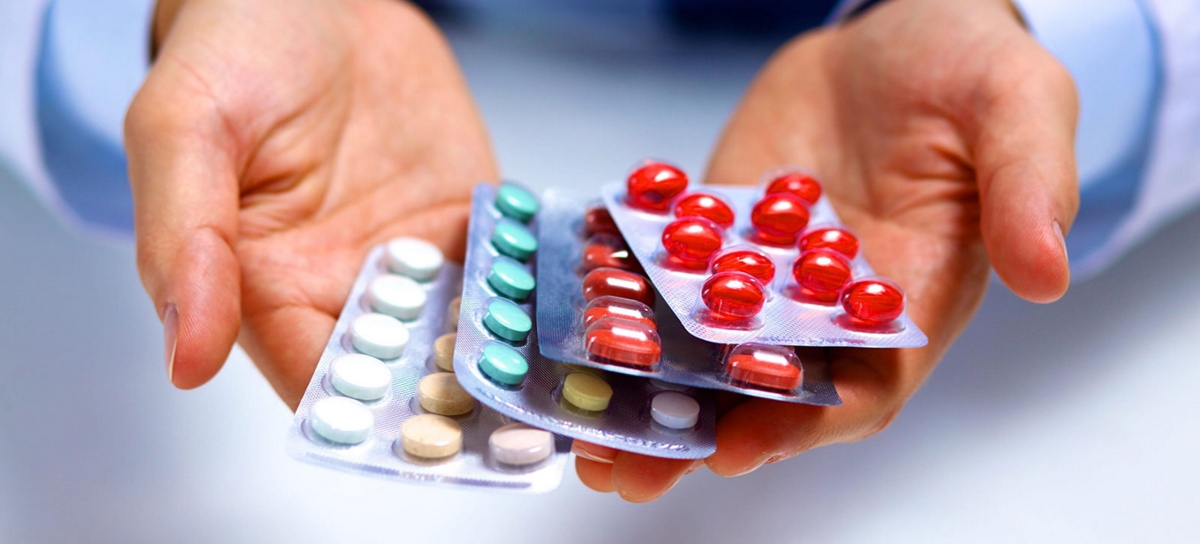 Sepha EZ Blister: 3-in-1 Blister Packing Process
Blister packaging is used to protect the product inside against external factors including moisture, heat, contamination and UV light. To create a blister pack, a plastic or aluminium layer is formed with cavities or pockets. Once the product is placed inside, a second layer, mostly aluminium foil, plastic or cardboard, is added to seal the pack and protect the product. The EZ Blister offers a 3-step process to create blister cards including forming, sealing and perforating/cutting.
Forming
A forming mould is used in either thermoforming or coldforming processes to form a tray with cavities to exact product requirements.


Sealing
Product is placed inside the cavities and the trays are sealed with pre-cut pieces of the selected lidding material using knurled or flat heat-sealing plates. Product traceability can be achieved by choosing the option of code embossing.


Perforating & Cutting
The sealed trays are cut and perforated using a precision die cutter. Perforated break-lines between the blister pockets can be added as an optional extra before the final perimeter cut.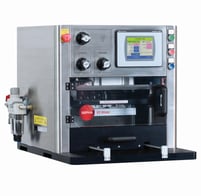 Depending on the forming material, the EZ Blister's thermoform process also enables housing of complex shaped devices including syringes, ampoules, contact lenses, dental implants etc. The maximum format area is 180mm x 120mm, with a maximum thermoform depth of 14mm* and a maximum coldform depth of 12mm*.
*Dependent on material type and cavity profile
Selecting your Blister Packaging Materials
The Sepha EZ Blister is capable of working with a wide range of forming and lidding materials including PVC, PP, PVDC, COC, ACLAR and Aluminium Foil.
Forming Materials
Each material has different resistance to each of these elements and will affect the shelf life and storage conditions of the packaged drugs. The more sensitive the product is, the higher-grade packaging materials like Aluminium or Aclar are required to protect the product. Tests are usually carried out during a drug's development (stability studies) to identify which materials are most suitable, bearing in mind the differing cost implications.
The forming film is usually colorless and transparent. However, if the drug must be protected from light, then forming films can also be opaque.
Lidding Materials
Lidding materials are mostly aluminium that have a printed primer on one side and a coating material suitable for heat sealing on the other side. This is usually accomplished by means of a heat-sealing lacquer which must comply with FDA standards and must precisely match the respective forming films. Precisely match means that with predetermined sealing parameter, a permanent sealing effect between the lidding material and the forming film must be guaranteed under any climatic conditions. An additional requirement is that the sealing strength must fall within a predetermined tolerance.
Depending on requirements, different materials are available including hard aluminium for push-through applications, soft aluminium for child-resistant needs, paper-aluminium for peel-off applications or paper-PET-aluminium for peel-off/child-resistant use.


Blister Sealing: Creating a Good Blister Seal
When producing blister packs on a smaller scale, it is still key that package integrity is assured, as any leakage or pin hole in the packaging can affect the efficacy of the product inside. Our tooling design and manufacturing department produces tooling to create blister packs that are comparable to automated pharmaceutical production lines, but that are more cost effective with faster lead times. All tooling produced by Sepha will be tested to ensure even distribution of force applied by the EZ Blister before it's shipped to a customer.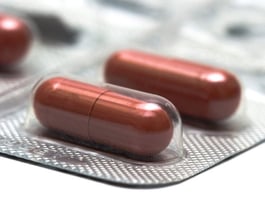 As part of these tests material compatibility tests will be carried out in line with machine and temperature settings checks. Relieved cutouts can be incorporated around the pockets in the seal tool to avoid heat being transferred into the blister pockets during sealing.
If required, Sepha's range of non-destructive leak test equipment can be used to test the integrity of the blister pack after producing the blister packs. Machines like the Sepha VisionScan and Sepha MediScan offer a non-destructive and deterministic method to test the packs for leaks and micron holes as low as 7µm. For more information please visit the Leak Test Solutions section on our site.
Blister Pack Design & Tooling Service
Sepha's inhouse team of engineering is highly skilled in design and production of blister packs to ensure efficient and integral package design. They will start with producing a pack proposal design (PPD) which will illustrate the blister layout, quantity of cavities, distance between cavities and cavity depth in line with the desired requirements.
This service will help reduce R&D time and minimize delays allowing final product to get to market sooner.
If customers have a range of similar tablet or capsule sizes, we can design a cavity that would suit all. This would reduce cost for different tooling and allow all tablets or capsules to go in the same blister packs. The disadvantage is that smaller tablets will be loose in the cavity which will not look as neat as the bigger product.
EZ Blister Packaging – Key Benefits & Features
The Sepha EZ Blister can give more control to an R&D lab or small production environment as the manual blister packing machine can be implemented and validated quickly. Production can start immediately compared to longer waiting times on fully automated lines. The main key benefits include:
Cost effective solution to produce small batches
Small footprint to save valuable bench space (715mm (L) x 655mm (W) x 555mm (H))
Fast & Easy set-up, no specialist knowledge required to operate
Can handle a wide range of forming & lidding materials
Cold forming capabilities enable a maximum depth of 12mm*
Thermoforming capabilities enable housing of complex shaped devices with a maximum depth of 14mm*
Precision engineered knurled or heat-sealing plates
Modified Atmosphere Packaging (MAP) function available as optional extra
In-house design service offers trial package designs with affordable bespoke tooling
Can form part of 21 CFR Part 11 compliance
* Dependent on material type and cavity profile
Interested in Small Batch Blister Packaging?
If you like to learn if the Sepha EZ Blister could be the right solution for your project, please get in touch via +44(0)28 9048 4848 or use the button below. Our sales team and engineers will be happy to discuss your requirements in more detail. Alternatively, download the EZ Blister brochure for more detailed information and technical specs.
Watch EZ Blister Video
Interesting links:
About the Author
The Sepha blog is an information source for all professionals in the pharmaceutical and medical device industries. It provides in-depth articles and the latest trends and developments in leak testing, deblistering and blister packaging.