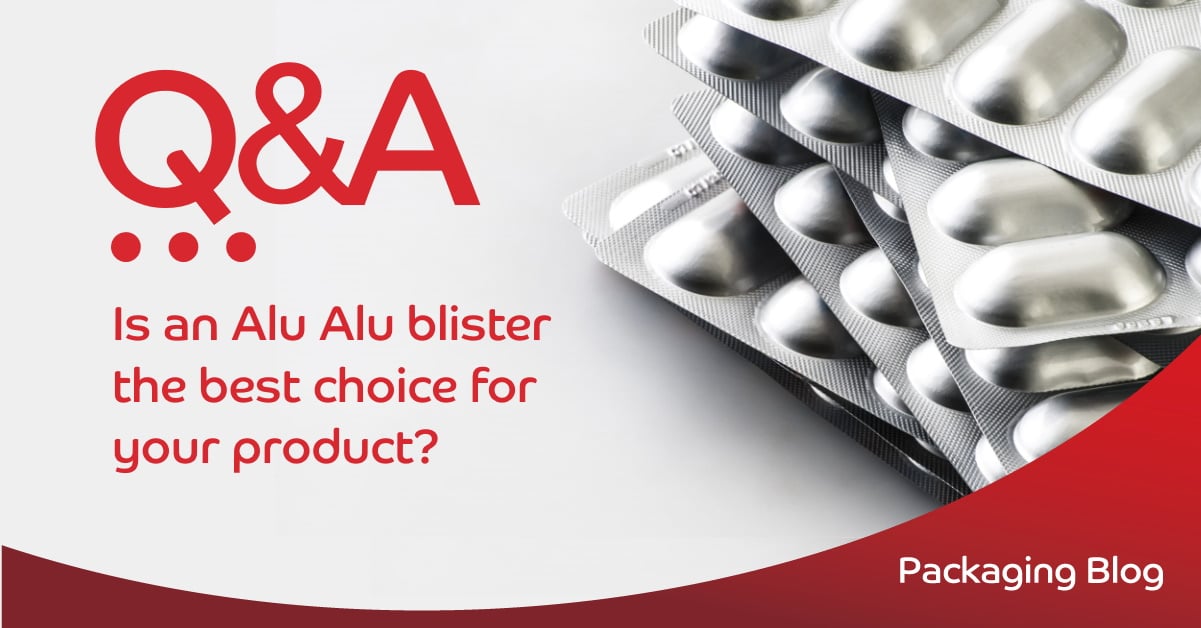 Is an Alu Alu Blister the best choice for your product?
Alu Alu is the most expensive blister packaging option – we estimate cost per pack at 50% higher than conventional PVC-based blisters. But in return for paying a premium, users get the best possible barrier protection for their product.
However, anecdotal evidence from the market suggests that a large proportion of products that adopt an Alu Alu blister format don't actually need that level of impermeability – packers and manufacturers are choosing Alu Alu as a 'belts and braces' strategy.
Read our Q&A to help decide whether an Alu Alu blister is right for your product or whether a cheaper thermoform blister would be as effective.
Q: What is an Alu Alu blister?
A: On an Alu Alu or CFF (Cold Formed Foil) blister pack both the base and lidding are made from aluminium-based film: OPA-ALU-PVC (nylon-ALU-PVC), making it possible to almost entirely eliminate water vapour permeability as well as oxygen and light ingress. These blister packs are made via a cold forming technique in which the laminate is pressed into a mould without applying heat, using forming pins to create the product cavity. The pack is then sealed with an aluminium lidding material.
Q: Why might a product need Alu Alu packaging?
A: It is essential that the Active Pharmaceutical Ingredient (API) remains stable in the finished product until the end of its shelf life to ensure efficacy and patient safety.
Stability can be compromised by thermal degradation, oxidisation, UV, microorganisms or hydrolysis. There are a number of formulation technologies that can protect the API; tabletting excipients that will absorb water and film coatings that prevent moisture from reaching the core, for example.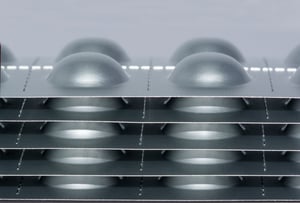 In addition, packaging suppliers have recognised the need for increased protection of highly sensitive drugs. Aluminium blisters offer a nearly complete barrier against moisture, light and air – factors that can lead to loss of stability, shortened shelf life or ineffective drug delivery.
It is estimated that 25% of pharmaceutical products on the market are sensitive and require optimal moisture protection. Products that are typically packed in Alu Alu blisters include effervescent tablets and high value, high potency drugs. Ultimately though, stability testing is the only way of determining whether an individual product requires that level of insulation.
Q: Why not use alu/alu for all blister packaged pharmaceutical products?
A: Because it is expensive. The cost of the OPA-aluminium-PVC laminate is higher than PVC and cold formed blisters require more packaging material than thermoformed blisters for packaging the same number and size of tablets or capsules. This is primarily due to the limitations of the cold forming process, which uses pins to press cavity geometry into a thin sheet of aluminium. Aluminium cannot be formed with near 90 degree angles, resulting in larger than necessary cavities and blister cards. Added to this are the slower speed of production for cold forming compared to thermoforming, the requirement for a dedicated feeder, the increased complexity of inspection due to the opacity of the cards, and the higher secondary packaging and logistics costs due to the larger packs.
Q: Why don't thermoformed plastic-based blisters offer the same degree of protection?
A: PVC – the most widely used thermoforming film – is easy to form and cheap, but the protective properties of the resultant pack are not on par with CFF blisters because of PVC's low resistance to moisture and oxygen ingress. Whilst CFF packs have a WVTR (Water Vapour Transfer Rate) of virtually 0g/m2/day at 38°C/90%RH (Relative Humidity), a standard mono PVC has a WVTR of 3.1g/m2/day at the same conditions. PVC is also transparent, which makes it unsuitable for light sensitive drugs. In addition, the permeability of plastic forming films generally increases with rising temperatures, leading to a higher WVTR. The same is not true of aluminium formed packaging.
Q: What other high barrier options exist?
A: The recent introduction of high barrier polymers such as PCTFE (Aclar) and the next generation PVDC has helped to bridge the gap between the conventional, low cost thermoform materials and Alu Alu. The performance of packs formed from these structures is improving all the time, but hasn't yet matched that of Alu Alu. Also of note are films from cyclic olefin copolymers (COCs). These films have been found to have a water vapour barrier that is about 10 times that of PVC and more than double that of PVDC-coated PVC. However, that must be balanced against poor oxygen barrier properties.
Another advantage of these high barrier laminates is that they enable a reduction of blister card size compared to Alu Alu. This is because the ability to form the cavity at a tighter angle produces smaller blister pockets and a more tightly nested blister.
Q: What if the protection provided by an Alu Alu blister isn't enough for my product?
A: Ultra sensitive drugs destined for hot, humid climates may need the extra level of protection that can be provided via tropicalised blisters. Tropicalisation is the enhancement of a thermoform base through the addition of a cold form 'lining', thereby increasing barrier protection against moisture, light and oxygen. The standard blister package remains unchanged as it pertains to the geometric dimensions of the cavity. Only the area around the blister has to be wider, so that the cold formed laminate can be sealed to the bottom of the plastic blister. To further extend the shelf life of moisture-sensitive products, a desiccant layer or scavenger technology can also be incorporated into the blister structure.
Sepha Solutions
Founded in 1980, Sepha has established a global reputation for innovation and development of specialised, high-quality equipment for use in the manufacture of pharmaceutical blister packs, parenterals, medical devices and healthcare products. We offer a range of small scale, high quality blister packaging machines and medical device packaging solutions capable of handling all thermoform and cold-form materials.
The EZ packaging range offers high quality packs for all requirements including child resistant/peelable blister packs, medical devices and monitored unit dose packs. Learn more about our packaging solutions that are flexible, adaptable and capable of handling complex pack designs at minimal cost.
Other interesting articles:
About the Author
The Sepha blog is an information source for all professionals in the pharmaceutical and medical device industries. It provides in-depth articles and the latest trends and developments in leak testing, deblistering and blister packaging.