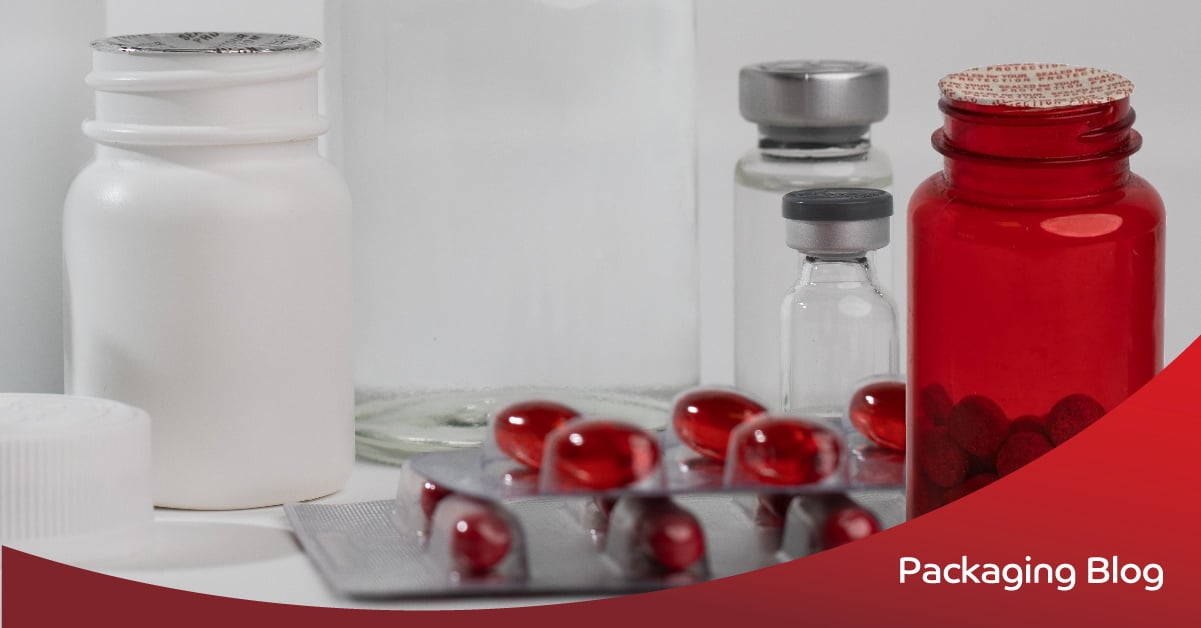 Dosing decisions - tablet packaging formats compared
There are various options for packaging pharmaceutical tablets, with the top three in terms of popularity being blister packs, bottles and strip packs. This post rounds up the pros and cons of each tablet packaging format against four key criteria: protection, cost, safety and sustainability.
Protection: bottles and blister packs battle it out
When comparing the two most prevalent tablet packaging formats – bottles and blister packs – the question as to which offers the best protection against moisture, temperature, humidity, oxygen and light is not clear cut.
Cold form alu/alu blisters are considered the golden standard for protection of moisture sensitive products, as the Moisture Vapour Transmission Rate (MVTR) is virtually zero. This is because water vapour only permeates through the seal layer and not through the metal substrate. This means that over a two-year shelf life, the RH (Relative Humidity) inside the blister will remain almost unchanged.
The MVTR of plastic bottles is related to the wall thickness and overall surface area due to the permeable nature of plastics. A certain amount of moisture will get through the bottle walls, leading to a slight degradation of the product, although nowhere near as much degradation as with a standard PVC blister. That said, by including a desiccant such as silica gel in the bottle, the shelf life can be extended to surpass even that of a cold form blister.
However, to claim that bottles offer superior protection is slightly misleading, as this barrier protection only applies until the initial opening of the bottle. Once the cap is removed and the induction seal broken, the barrier is never the same. With a blister, on the other hand, each individual cavity protects the tablet inside until it is removed from the package.
Strip packs, the third most popular tablet packaging format, can be formed from aluminium-PE laminated film that has the same protective properties as cold form aluminium film, shielding the product from light, moisture and oxygen.
Cost: blister packs and strip packs keep it real
Blister packs are cheaper to produce than bottles as they use a fraction of the material and are lighter weight, which also keeps logistic costs in check, although there is the cost of the secondary wallet or carton to factor into the equation. Strip packs are cheaper still; they use 30-40% less material than blister packs, which translates to considerable material cost savings. However, this must be offset against lower production efficiency – strip packaging lines operate at much slower speeds than blister packaging lines.
The importance of cost in the overall decision making mix will depend on whether a product is a prescription drug or an OTC product. Cost plays a secondary role in the prescription drug market, where the focus is on regulatory compliance and security/safety. Therefore blister packs are this category's preferred format. By contrast, in the OTC market, higher volumes and a focus on driving down costs makes strip and stick packs an attractive choice.
The cost of a pack will be dictated to an extent to what pack format a manufacturer is already using. Changing between pack styles incurs costs for pack design, trials, regulatory approvals and machinery tooling, so more often than not, sticking with the same format is the most cost effective option.
Read our '8 Top tips for achieving a brilliant blister seal'.
Patient safety & compliance: blister packs have the edge
Although blister packs are easier to get into than bottles with push-down-and-turn closures, studies have concluded that blisters are more child-resistant than bottles. This is because a child will be unlikely to extract more than one or two tablets from a blister, whereas once the bottle is open, the entire contents are accessible. Developments in secondary packaging have also yielded child-resistant wallet and carton formats that can add a further layer of child-resistance to blisters.
But patient safety is about more than ensuring packaging is child-resistant. It is also about ensuring patients receive the correct product and dosage instructions. Although the foil backing of the blister strip can be printed with limited data, usually the full usage information is found in a supplementary booklet, and once the pack is opened, that is often stored separately to the strip. Still, bottles are not necessarily any safer in this respect and often have labels that are difficult to read and that do not accommodate all details required for regulatory purposes. This means that a secondary information leaflet is usually necessary with a bottle too.
Blisters are safer than bottles from the point of view of reducing the margin for dispensing errors within pharmacy operations. They also have a clear advantage when it comes to maximising the chances of patient compliance/adherence. This is because there is an opportunity for calendarised packs which counteract forgetfulness by providing a visual snapshot of the patient's dose history.
More insight in the trends in pharmaceutical packaging is available in our blog post 'Pharmaceutical Packaging: The Silent Bodyguard'.
Sustainability: strip packs emerge as a challenger
On the face of it, it might seem that blister packs are less sustainable than bottles because they are not recyclable, whereas most OTC tablet bottles can be recycled via kerbside schemes. However, this does not take into account material consumption; blister packs use a fraction of the material that bottles do. If the two formats are compared using the waste hierarchy to evaluate their environmental credentials, blister packs emerge as the more sustainable solution.
Strip packs are poised to take on blisters as the most sustainable tablet packaging option, following the introduction last year of the first recyclable strip pack. More than 90% of the components belong to the same material class (PE and PP), enabling the pack to be recycled.
Sepha Solutions
Founded in 1980, Sepha has established a global reputation for innovation and development of specialised, high-quality equipment for use in the manufacture of pharmaceutical blister packs, parenterals, medical devices and healthcare products.
We offer a

range of

small scale, high quality blister packaging machines

and medical device packaging solutions capable of handling all thermoform and cold-form materials. The EZ packaging range offers high quality packs for all requirements including child resistant/peelable blister packs, medical devices and monitored unit dose packs.
In addition we offer a range of

non-destructive and deterministic

CCIT

and

leak test systems, specially designed to rapidly test for leaks in a wide variety of pharmaceutical packaging including blister packs, vials, ampoules, pre-filled syringes, BFS strips, bottles, sachets, pouches and medical devices. Unlike the industry standard destructive test methods like Blue Dye Methylene, our testing methods are non-destructive in line with ASTM standards and deterministic as preferred in USP 1207.
Other interesting articles
About the Author
The Sepha blog is an information source for all professionals in the pharmaceutical and medical device industries. It provides in-depth articles and the latest trends and developments in leak testing, deblistering and blister packaging.